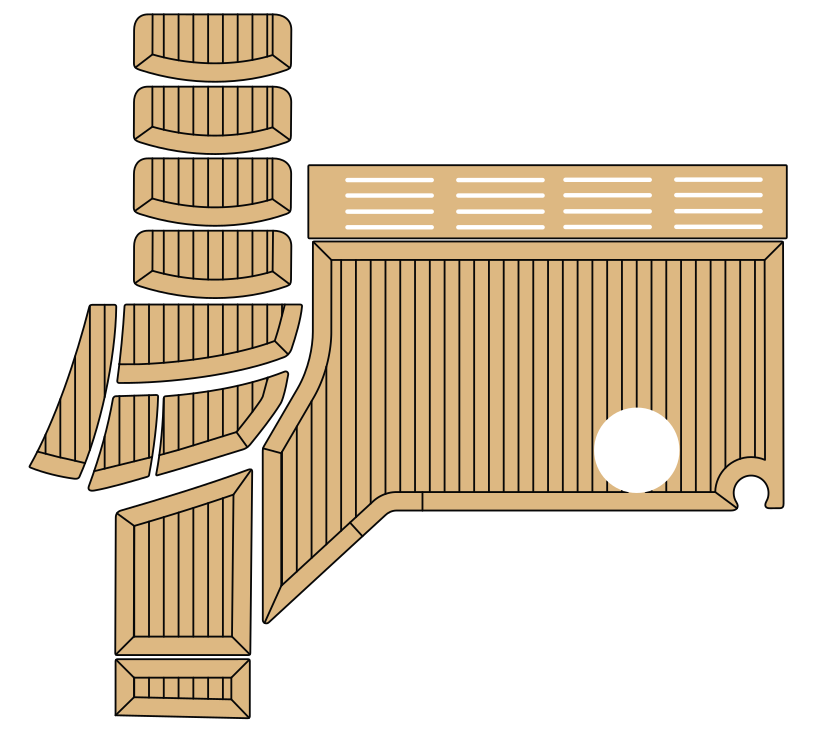 We try to provide the highest level of service in the industry. One way we do that is to provide exceptional estimation and design services for your project. We know that you want your project done correctly, within budget and with minimal waste. The best way to get an accurate estimate and/or bill of materials is by utilizing advanced Computer Aided Design (CAD) software, 3D digitizing equipment and the most creative designers on the water.
We have over a thousand boat patterns currently on file and we're adding more every day. For accuracy, we do not keep patterns unless they were made by our craftsmen. You don't have to worry about who made them or whether they will fit. They will, we guarantee it. If we don't have the patterns for your boat then we'll need a little help getting started. Having a builder supplied schematic or deck plan really simplifies the process and we can often get them online or through other sources. However, we can also develop an fairly accurate plan from a rough diagram or sketch showing critical measurements. Of course, some photos always help as well. You don't need to be an engineer or artist, just draw a quick sketch, take some measurements and photos and we'll do the rest.
This method is very beneficial in designing the look of your project. Do you want a Traditional Pattern with margin boards around the entire perimeter, New York Pattern with no margin boards at all or something in between? See design galleries below to see what these patterns looks like on a finished project.
It is hard to imagine what the differences look like without some sort of rendering and it is critical decide before the project is started. Developing a digital rendering also allows our craftsmen to spot any areas of concern and develop solutions before it is too late. Our experience means that we can ensure the final product will be as authentic as possible.
We highly recommend that you take advantage of our design and estimating services if you have any hesitations about what the end results will look like in real life.
Traditional Pattern
Our Traditional Pattern most closely replicates the look of a classic yacht deck. When using real hardwoods for marine decking it is crucial to minimize the amount of exposed end grain in order to prevent rotting and premature failure. For this reason most real teak decks use margin boards (borders) to seal the end grain of the decking planks. Essentially there are boards around the entire perimeter of the deck and hatches. We replicate this design to achieve the most authentic classic look
Hybrid Pattern
With some materials we are able to be more creative with where we use borders and where we don't. Sometimes the best pattern is no pattern at all. The lines of the boat usually dictate what is going to look best and we always strive to make the design look correct to the vessel. A Hybrid swim platform will have a border on the trailing edge only and a Hybrid cockpit will have borders around the perimeter, but not around the hatches or openings.
NY Pattern
Our New York Pattern has no margin boards around the borders. Named after the pinstripe uniforms of the Bronx Bombers our New York Pattern gives a more modern, sporty look. As our synthetic materials do not suffer from the deteriorating effects of water and weather it is not imperative to enclose the end grain of the planks. With the cost of real hardwoods increasing exponentially it is not uncommon to find real teak decks laid in this pattern. The longer caulking lines visually enhance smaller swim platforms and give a clean, uncluttered appearance. This pattern also helps minimize the visual breaks between hatches and lockers.